About Us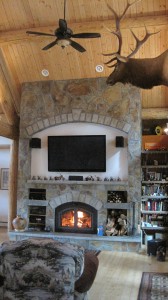 Joseph Adams, President, has been designing and building Colorado homes for over 40 years.  His personal attention throughout the building process–from design, materials, craftsmanship, and timely completion–has earned him the reputation as a premier Colorado design and build company.  Joe has designed over 250 custom residential and commercial properties.  He has more than ten years' experience as a project manager for a national home builder, which included purchasing, bidding, budgeting, and land development for new and existing product line homes.
ADAMS CUSTOM HOMES (formerly known as BLUE SPRUCE CONSTRUCTION CO., INC.) has focused on designing homes for prominent Colorado builders in the Denver Metro and Colorado Springs areas as well as designing and building custom residences.  We tend to keep our custom design/build business to one or two homes per year so that we can give them the proper attention needed on such projects.
We are affiliated with Bitterroot Valley Log and Timber, Inc. of Montana and are located between Castle Rock and Colorado Springs, and have designed and constructed our own log home.  Please see our link to Bitterroot Valley Log and Timber, Inc.
If you are going to be in our area, please give us a call for a tour of our Log Home!